Toblerone Gifting Station at Zürich Airport
Mondelez World Travel Retail (WTR) has teamed up with Dufry to introduce a multi-dimensional Toblerone gifting experience at Dufry's new generation store at Zürich Airport.
The Toblerone Gifting Station was unveiled in February and pays tribute to Toblerone's Swiss heritage and homeland. The space includes backwalls with incorporated screens, magnifying product displays as well as a gifting and 'Create Your Own Toblerone' station.
Mondelez WTR Head of Category Planning Ivo Knuesel said: "The innovative space in Dufry's new store in Zürich is the perfect setting to build on Toblerone's impressive track record of in-store engagement. The Toblerone Gifting Station responds to Next-Gen travellers' desire for authentic brand experiences with a personalised edge.
"This latest activation also demonstrates our dedication to our digital agenda, which is the extension of our Delighting Travelers category vision and is supported by the three main pillars: digital in-store engagement, online communications and e-commerce."
The new installation responds to the trend of personalisation, said Mondelez WTR. With every Toblerone purchase, shoppers can print a complimentary personalised message on a ribbon for their Toblerone gift bags, in under a minute. Two Sense of Place sleeves are available to accompany the chocolate bars: 'Zürich City', featuring the skyline of Switzerland's largest metropolis, or 'Grüezi' ('Hello' in Swiss German).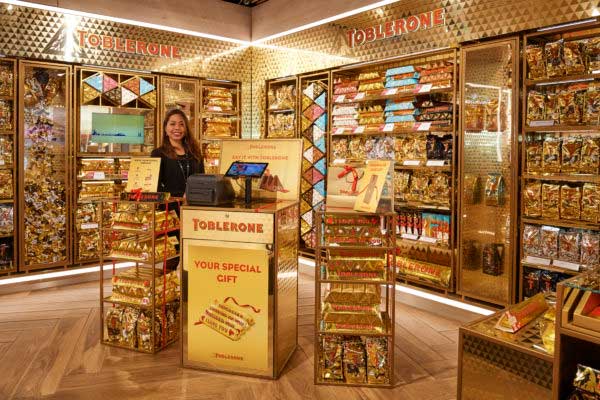 Dufry Group Global Category Management Head – Confectionery, Food, Souvenirs & Toys Philippe Moryl said: "We really appreciate Mondelez WTR's creativity and cooperation with this activity. They were the first to understand how important it is to deliver a concept that makes maximum use of all touch point opportunities we are proposing within our new generation store concept.
"Communicating brand value and image through via our digital solutions, creating emotion with unique and outstanding retail execution and interacting with customers by proposing personalised products. In this context the Toblerone gifting station is the perfect fit, bringing innovation and resonating with shoppers on a personal level."
Zürich Airport Senior Manager Retail Airside Anja Baer added: "Shoppers in travel retail look for more than just a purchase today. They are looking for an added value proposition through ultimate experiences, and the Toblerone gifting station well caters for this. Over two million passengers who pass through Zürich airport every month will be exposed to this animation of the Swiss chocolate icon, helping make the airport retail offer stand out."
Retail wrapping gets personal at Hallmark
PIY Ribbons, an exciting new innovation for UK retailers, has been successfully trialled at Hallmark. PIY Ribbons is a unique system comprising point-of-sale tablet computer and printer that produces high quality satin ribbons printed with the customers' personal message.
'PIY Ribbons is great, everyone loves being able to personalise a gift' says Leanne Gibbons of the Hallmark store, Rainhill. 'We're using it on lots of products…Teddy bears are very popular for new baby gifts. We add the message 'Welcome xxx into the world' and wrap the ribbon around'.
'Yankee candles and balloons are other big sellers. We charge £2 when the gift is bought from us and £3 when they're taking it for one they have at home'.
PIY Ribbons 'offers a lovely finishing touch that people are really valuing' according to Leanne. 'All card and gift products can have a ribbon' she adds.
Bespoke items can be catered for too, with the store offering pre-ordered sashes for Weddings, Christenings, hen parties, Holy Communions etc. at £5 for children and £7 for adults.
Muscari Whites Florist, Bromley
'Customers love the personalisation' provided by PIY Ribbons, says Michelle Knibbs of Muscari Whites Florist. The Independent retailer in Bromley is the first UK florist to install a PIY (Print it Yourself) Ribbons Printer. Inside 12 weeks Muscari Whites has achieved return on investment, while adding a unique selling point for their business.
News of the ribbon printer facility has spread locally quickly and Michelle Knibbs, Proprietor of Muscari Whites has been contacted to produce personalised ribbon for all sorts of occasions. Michelle says, "I regularly receive orders with requests for personalised ribbons as well as calls from happy recipients who think it's wonderful that their names are on their gift wrap. It's turning out to be a great revenue stream for my business!"
Michelle has been selling personalised satin ribbons attached to hand tied bouquets of flowers at £1.50 for each ribbon. For thicker ribbons with messages on both sides of the ribbon, the price is £4.50 each. For funeral displays the florists can print named 'In Deepest Sympathy' messages on hard backed flower ribbons at £4.95 each. Michelle has found that personalisation is particularly important to people wanting to say 'Goodbye' to loved ones.
Muscari Whites now has a unique selling point, which builds customer loyalty and attracts new business through word of mouth.
SHARE YOUR SUCCESS STORY
Let us know how the PIY Ribbon System has helped your business grow